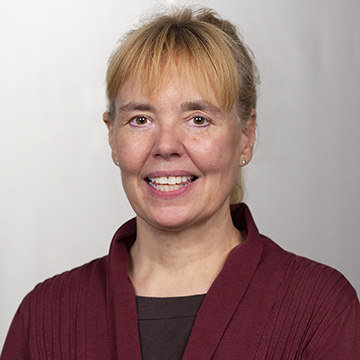 Anja Matwijkiw
Professor of Professional Ethics and Human Rights
Arts and Sciences Building, Room 2047
Office Hours
Tuesday 11:30pm-2:30pm
Thursday 11:30pm-2:30pm
Awards and Honors
New Frontiers in the Arts & Humanities, Indiana University-Bloomington, 2016-2017
Listed among the "distinguished scholars" for Oxford University Press, 2016.
The Board of Trustees' Teaching Award, IU Northwest, 2015, 2008.
Listed as "an eminent international law scholar" by Oxford University Press editors, 2012.
EuropeAid Office of the European Commission (under the auspices of International Institute of Higher Studies in Criminal Sciences (ISISC)), 2010.
Summer Faculty Fellowship in Research, IU Northwest, 2008, 2007, 2006, 2005, 2004.
College of Arts & Sciences Dean's Award for Distinction in Research and Creativity, Indiana University Northwest, 2007.
Selected as "Outstanding Instructor" for National Teacher Recognition Day, Center for Innovation & Scholarship in Teaching and Learning (CISTL), Indiana University Northwest, 2006.
Center for Regional Excellence Fellowship, Indiana University Northwest, 2006.
Listed (with name) among "our friends at the University of Chicago who inspired, founded and nurtured the [Scholars at Risk] Network," October 27, 2003.
The Niels Bohr Award, the Royal Danish Academy of Sciences and Letters, 2000.
His Royal Highness Prince Joachim and Her Royal Highness Princess Alexandra's Foundation (awarded by Lord Chamberlain Per Thornit), Amalienborg Castle, Denmark 1998.
The Anglo-Danish Society (Patrons: HM the Queen of Great Britain and HM the Queen of Denmark), London, England, 1992.
Representation in Prestigious Collection